Another big month in July sales wise, setting a record even. Amazing what record low interest rates can do even in a recession. Prices were more mixed, as we've seemed to have turned the corner into the summer and the traditional cooling of the market.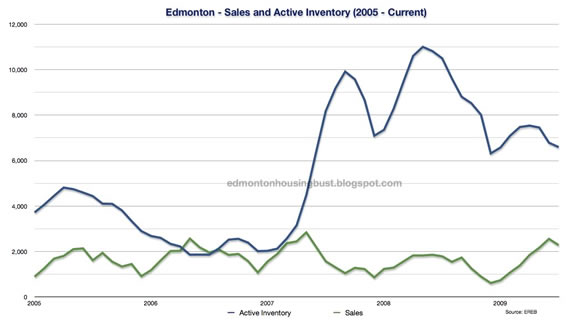 Obviously sales were strong for July, but were down month-over-month. That is quite typical though as usually sales peak in May or June then cool through the winter, and start amping back up… 2003 being the exception when they actually peaked in July.
Inventory dipped a bit in response to the increased activity, but remains very high by historical measures.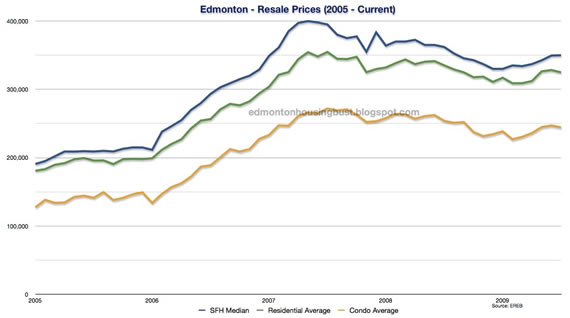 Prices as I mentioned were a mixed bag. SFH median was about the same, SFH average and townhomes were up a point or two, while the residential average and condos were both down a tick.
As everything but condos were up, but the residential average was down, that would suggest there were a whole lot of condos sold last month… which I think could signal the return of the speculator to the market. Which would be consistent with a couple friends of mine behaviour as they're into the house flipping game, and the last couple months have been suddenly emboldened and dusted off their cheque books. Time will tell whether that pays off.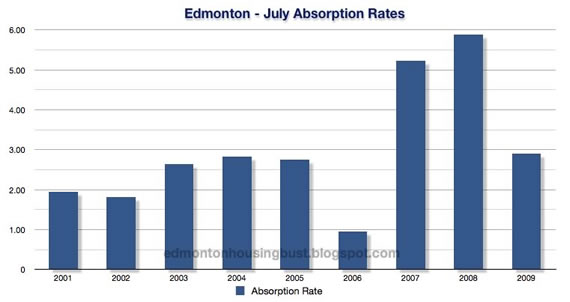 Obviously with sales down from June, absorption rate went up a bit. Again this is quite typical for this time of year, as sales start to drop off faster then inventory. Expect that to continue for the next few months.
So, the executive summary for July, sales were strong but are falling with typical seasonality, prices are about the same, and speculators may be returning judging from increased activity in the condo market.
As always, here are the hard goods:
Sales = 2,277
Since two years ago = +45.5% (+712)
Since one year ago = +27.6% (+493)
Since last month = -10.8% (-275)
Active Listings = 6,592
Since two years ago = -19.4% (-1,591)
Since one year ago = -37.2% (-3,909)
Since last month = -2.8% (-193)
Single Family Homes Median= $350,000
Since peak (May '07) = -12.5% (-$50,000)
Since one year ago = -3.3% (-$12,000)
Since six months ago = +6.1% (+$20,000)
Since last month = +0.1% (+$500)
Residential Average = $324,847
Since peak (July '07) = -8.4% (-$29,871)
Since one year ago = -3.1% (-$10,253)
Since six months ago = +2.5% (+$7,798)
Since last month = -1.1% (-$3,452)
Single Family Homes Average = $372,741
Since peak (May '07) = -12.5% (-$53,287)
Since one year ago = -1.7% (-$6,483)
Since six months ago = +5.7% (+$20,052)
Since last month = +0.8% (+$2,882)
Condo Average = $244,265
Since peak (July '07) = -10.2% (-$27,643)
Since one year ago = -3.8% (-$9,585)
Since six months ago = +2.4% (+$5,730)
Since last month = -1.1% (-$2,806)
Townhome Average= $296,284
Since peak (Oct '07) = -19.5% (-$71,680)
Since one year ago = -6.5% (-$20,548)
Since six months ago = -1.0% (-$2,938)
Since last month = +1.8% (+$5,213)