I thought I'd take a quick look at another part of the housing market that I haven't really discussed as of yet, and examine what's happened to the rental market in Edmonton in the last few years.
Much like the rest of real estate in the city, the rental market saw rather explosive increases in unit costs. A run of the mill two-bedroom apartment that went for $600 a month in 2000, has shot up to over $1000 a month today. Most of that increase came in '06 and '07, when much like the resale market we experienced very high demand and low supply, resulting in a negligible vacancy rate… thus providing all the fuel needed to greatly increase prices.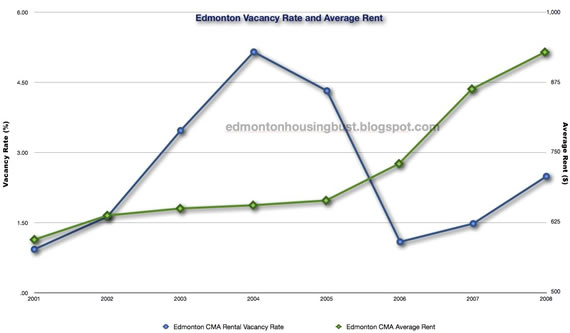 As the above chart shows, through 2005 the average rent (including apartments and row houses) was quite stable while the vacancy rates were above 3%… but come 2006 when the economy really started to heat up suddenly the vacancy rate plummeted down to about 1% and that triggered a big increase in rents.
Even as vacancy rates started to creep back up, the average rent continued to increase in 2008. This probably due to long term tenants getting more gradual annual hikes, to get them in line with when new tenants were paying. The major hikes really started hitting in summer '06 but it took a couple years for those to make their way to pre-existing tenants in full.
Also during this period we saw a number of building operators attempting to cash in on the hot real estate market and do condo conversions.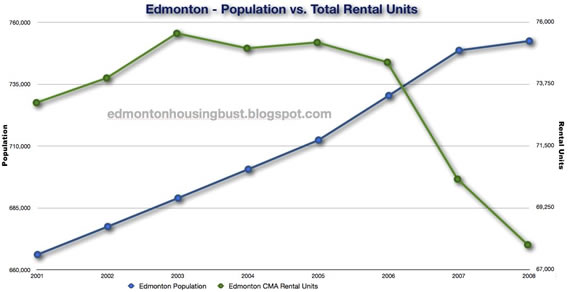 At the peak in 2003, there were 75,597 rental units available in the metro Edmonton area, and since then we have lost 7,690, over 10%. Most of these were just in the last two years, 6,639 to be exact. With a growing population, many of which were people coming here and working at lower end jobs, this obviously caused a big pinch.
Not to bore you with numbers, but just to give you an couple examples, the average monthly rent for all units has went from $678 in 2001, to $956 in 2008, up 59%. And since 1 & 2 bedroom apartments make up 3/4 of available units, I should mention those specifically. One bedrooms have went from $489 to $847 (up 73%) and two bedrooms from $601 to $1034 (up 72%)
So while the increases in the rental market were not quite of the magnitude of those experienced by the resale market, they were quite significant in their own right.
What the future holds for the rental market should also be pretty interesting. Vacancy rates appear to be on the way up, and we're already hearing of complexes lowering rates, as well as offering all kinds of incentives… stuff we haven't seen for some time. Add to that the influx of accidental landlords that have resulted from all the speculation in resale and presale markets, and we have a buyers market for renters as well.