April is fast drawing to a close.
We probably won't get the final numbers until Monday, but indications are that it was a fairly typical April. Prices look to be up a point or two over March, and sales figures are looking like they'll be in the normal range for the month, 1750-1850… which would actually be an improvement over the winter which saw sales well below average, and welcome news for those trying to sell
For those of us looking for indicators of long-term trends though, we're kind of stuck in a holding pattern. Observing it all, it seems somewhat counter intuitive since asking prices keep coming down, but the averages continue to hold. But perhaps that's an indicator of what's selling more than market direction. Or maybe it's the incredibly low interest rates. Who knows, maybe we really have hit bottom… nah.
If this year is anything like last year, it won't be until the second-half of the year that we'll find out whether prices will sink or swim… until then we're stuck waxing philosophic, arguing banalities and over-analyzing indicators.
Not that over-analyzing indicators cannot be fun… one of which is the Teranet/National Bank House Price Index. We looked at this a bit back in January, so it's a good time for an update.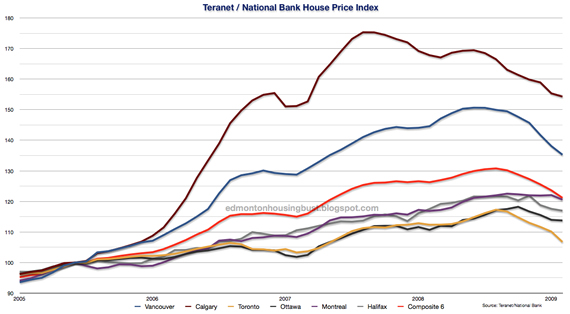 The overall trend looks to be down, particularly in the uber-bubbly Calgary and Vancouver markets. Everyone is down month-over-month. Montreal and Ottawa are up year-over-year, but as can be noted, they didn't appear to really have 'bubbles'… not anything like the western markets anyway.
It's still striking how similar our graphs look compared to what happened in the United State (graph prepared back in January).