The August numbers were released this morning, and the market looks like it's cooling after a blistering late spring/early summer on the sales front. Inventory was down slightly, but because of the large drop in sales the absorption rate has climbed back up into 'buyers market' territory. Average prices were also down across the spectrum.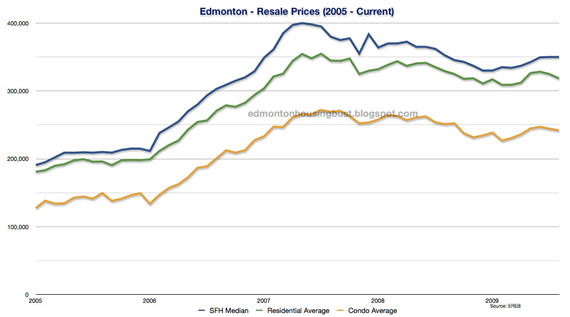 As I mentioned, average prices were down in all categories, but the SFH median did hold from July. The SFH average dropped $5,953 from July, condos and townhomes were both down about $2,250, and the residential average dropped $6,526.
As the drop in residential average was larger then for any of it's components, that suggests we're seeing a shift in activity back toward condos. Not a surprising move though, as with the record low interest rates it allowed people to 'go big' so to speak, and there was a disproportionate amount of activity in the detached market.
In coming months it will be interesting to watch prices, as the global markets are not showing any signs of recovery, I'd expect bond yields to stay down, which in turn will keep interest rates down likely going into 2010. This could keep prices up, and we could actually see some year-over-year increases even with month-over-month softening as it was around this time last year prices fell off the table before rallying a bit this spring.
Of course that will likely all come undone once rates do start climbing, but in the mean time if you're looking to sell you don't need to feel rushed just yet.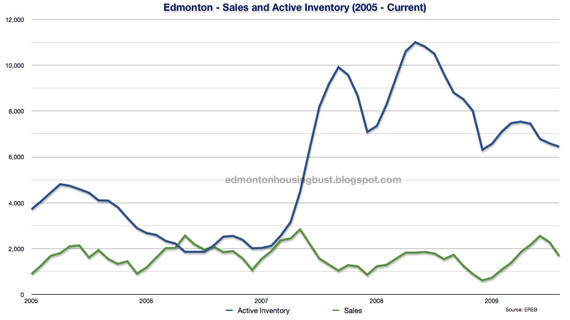 After consecutive record months, August was much more in the 'average' range for sales. Inventory has dropped a bit, but is largely holding. Interesting the pattern inventory makes this year is something of a mole hill compared to the mountains 2007 and 2008.
Though, I suspect it would be more severe if it wasn't for the low interest rates, which has made the speculative/shadow inventory very cheap to carry in hopes of prices returning to boom levels. A risky move IMNSHO, but it's not my money.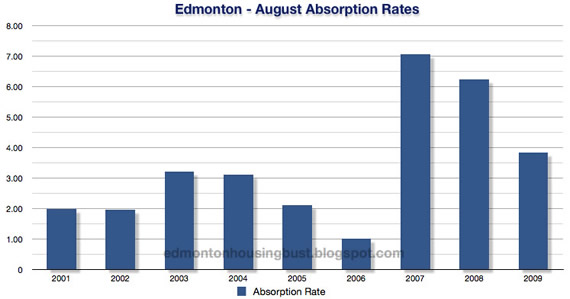 And finally, here is a look at absorption rates for August over the years. Down from the last two years obviously, but much higher then we normally are historically. It's also climbed back above 3.5 and into a 'buyers market' after getting as low as 2.66 in June. Such movement is quite normal for this time of year though, as sales tend to drop off more while inventory holds.
As always, here are the hard goods:
Sales = 1,673
Since two years ago = +28.8% (+374)
Since one year ago = +8.6% (+132)
Since last month = -26.5% (-604)
Active Listings = 6,445
Since two years ago = -29.8% (-2,740)
Since one year ago = -32.9% (-3,167)
Since last month = -2.2% (-147)
Single Family Homes Median= $350,000
Since peak (May '07) = -12.5% (-$50,000)
Since one year ago = -0.7% (-$2,500)
Since six months ago = +4.5% (+$15,000)
Since last month = No Change
Residential Average = $318,321
Since peak (July '07) = -10.3% (-$36,397)
Since one year ago = -3.3% (-$10,886)
Since six months ago = +3.0% (+$9,351)
Since last month = -2.0% (-$6,526)
Single Family Homes Average = $366,788
Since peak (May '07) = -13.9% (-$59,240)
Since one year ago = -0.7% (-$2,402)
Since six months ago = +5.6% (+$19,479)
Since last month = -1.6% (-$5,953)
Condo Average = $242,035
Since peak (July '07) = -11.0% (-$29,873)
Since one year ago = -3.6% (-$9,013)
Since six months ago = +6.7% (+$15,178)
Since last month = -0.9% (-$2,230)
Townhome Average = $294,007
Since peak (Oct '07) = -20.1% (-$73,957)
Since one year ago = -6.8% (-$21,433)
Since six months ago = -4.9% (-$15,173)
Since last month = -0.8% (-$2,277)