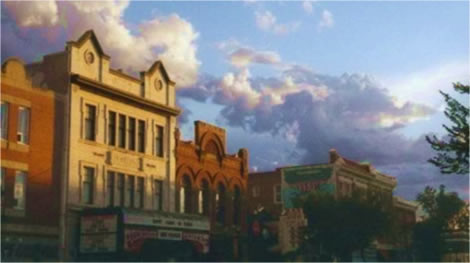 This will probably come off like a puff piece, but it's been a beautiful weekend, I don't really feel like doing actual research, I need one more post to hit my self imposed monthly quota of ten and I just took a stroll through mine yesterday and feel like waxing nostalgic! After all, this is my sandbox dammit!
Back when I was at the U of A, well, my first couple years I lived at Lister Hall, which anyone who has lived there can attest, is an experience in itself before they tamed it down in there… and my floor really took it to another level beyond that even, we set all kinds of records for incident reports and property damage. Out of the 15 freshmen that lived down my wing, only four of us not were kicked out for behaviour, poor grades, or in most cases, both. Good times!
Anyway, after surviving that, I moved down off campus into the neighbourhood of Queen Alexandra, right in the heart of Whyte Avenue. It's such a vibrant area, Queen Alex/Garneau/Strathcona. So full of life and I don't think there is a better part of the city to spend the summer in.
Sure, it's a bit dumpy in areas, but there is just so much to do, beautiful tree lined streets and the homes/buildings have so much character. There is also such a wonderful energy in the air when people are out and about (and for those raging alcoholics out there, you can get drunk every night for over a month and not have to crawl home from the same bar twice!).
Personally I find the new developments of endless cul-de-sacs fulled with cookie cutter McMansions so depressing. You don't find that in Old Strathcona, though there are some new condos here and there (is it just me or is that ecohouse complex a giant eyesore?).
As I've eluded to, there is an endless supply of things to do down there. Ton's of restaurants, bars, and shops of all varieties. Also live theatres and a couple art house cinema's, not to mention the annual Fringe Festival.
Not sure why, but of all the places I've lived during my twenty some odd years, Old Strathcona is where I feel most at home.
How about for you all? Where are some of your favourite areas/neighbourhoods?