Had been preparing an update on the affordability numbers, but then noticed the latest arrears figures were out, so we'll knock that one out first and leave affordability for later this week.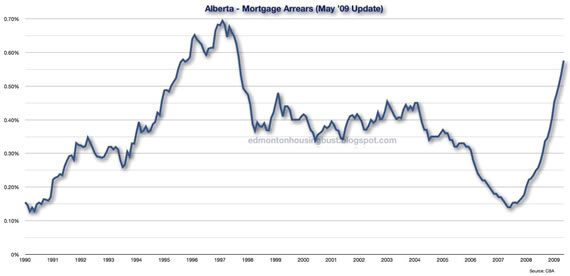 As the title implies, there has been no slowing this spring, and as of May we were up to 0.58%, up from 0.25% a year ago, and 0.54% in April. Also getting increasingly removed from the long term average of 0.37% and nearing the record heights reached hit 1997 (0.69%).
It will be interesting to see if the increased sales in June will have any effect on these figures. Obviously the strong sales in May did not appear to, but we should also remember the full effects of the the employment turmoil in the new year were really starting to show up.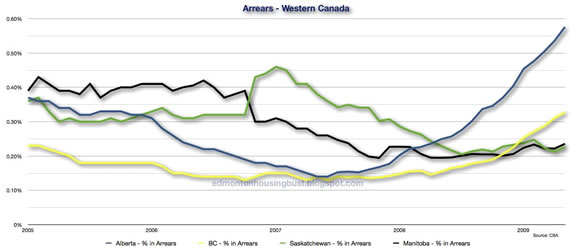 Lets take a look at the rest of the nation. Obviously looks to be in a league of their own at the moment, particularly isolating the West. Saskatchewan and Manitoba continue to enjoy the lowest rate in Canada, coming in at 0.23% and 0.24% respectively.
B.C. will be interesting to watch, and their numbers are really starting to pick up since prices started going down there, and it would not surprise me in the least if they are soon tracking very similar to Alberta, and eventually even worse. As bad as it may have got here, the affordability factor there is/was MUCH worse.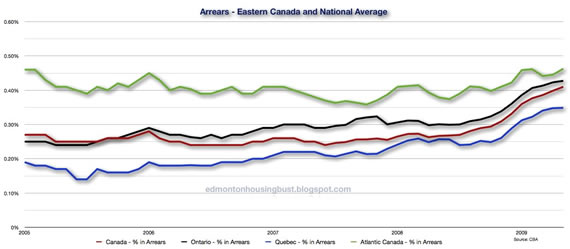 In the East, everyone has seen increases since the financial crisis, but much more gradually. Here I'd say Ontario will be interesting to watch going forward considering the hit the manufacturing core has taken.
So, that's about it for today, should give you guys something to do if you can tear yourself away from JK Wedding Entrance Dance. Gotta admit, even as a person with a cold black heart, and whom hates few things as much as weddings and dancing… even I must admit there is a certain undeniable charm about that video. Any who, now back to more manly things, like sports, scratching and beer.